Certified Service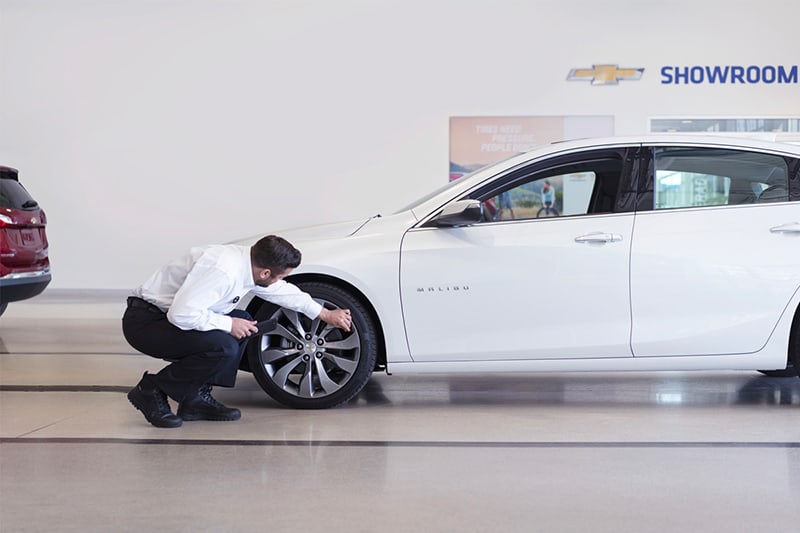 Chevrolet Service in Charlotte, NC
When you keep up with the routine service and maintenance of your Chevrolet vehicle, you will enjoy mile after mile of premium performance on Gastonia roads. From the simplest Chevy oil change to the most complicated Chevy SUV repair, the service department at Rick Hendrick City Chevrolet is your premier destination for Chevrolet service in Charlotte, NC! We use state-of-the-art equipment and OEM parts at our service center while providing service offers and service financing options, so expert Chevy repair is never out of reach.
Read on to learn more about the Chevrolet services we provide to Concord drivers.
Maintenance
Need New Tires?
Your vehicle's tires are the first and only contact with the road, so it is important to choose the right set when replacing them. Rick Hendrick City Chevrolet has Certified Service experts that will handle all of your tire needs. From rotating your tires to determining the best tires for your Chevrolet, our team can do it all! We know that replacing all four tires can be a big investment in terms of Chevy SUV repair, so we often include tire rebates and price matching coupons in our rotating service offers!
Find Tires
Need An Oil Change Near Charlotte?
Your vehicle may be trying to tell you something – Oil Life Monitoring Systems (OLMS) let you know when it's time for an oil change. If you don't have an OLMS in your vehicle, you should be able to locate a Chevy oil change schedule in the owner's manual. Most vehicles on the road today will only need an oil change every 7,500 to 10,000 miles, but our Certified Service experts will be glad to create a schedule for you based on your vehicle and your driving habits — staying on top of oil changes is key to avoiding a complicated Chevrolet repair down the line.
Learn More
Multi-Point Vehicle Inspection
When you visit us for Chevrolet service, we offer a Multi-Point Vehicle Inspection. During the inspection, we assess the vital components of your vehicle to ensure its performance and safety on Concord roads. Protect yourself and your automotive investment with a comprehensive vehicle inspection at Rick Hendrick City Chevrolet today.
The Multi-Point Vehicle Inspection form uses a simple color-coded key to assess maintenance terms:
Red indicates items that need immediate attention.
Yellow indicates items that should be addressed in the near future.
Green indicates no items to address.
Hearing Brake Noise?
Are your brakes grinding? Stopping power is crucial to a safe and successful driving experience. When you need brake service, visit Rick Hendrick City Chevrolet, and our GM Certified Service experts will recommend quality new brakes. This type of Chevy car repair usually isn't needed quite as often as things like oil changes and tire rotations, but it's among the most critical Chevy repair services because you need healthy brakes to stay safe on the road.
Learn More
Battery Trouble?
Your vehicle's battery provides energy to start the engine, plus it supplies power to accessories when the engine is not running. The cold of winter and the heat of summer can affect your auto battery. See us for your vehicle's battery needs! Replacing your battery is a quick and affordable Chevrolet repair that should only be needed once every two to three years or so.
Learn More
Schedule Routine Chevrolet Service or Chevy Repair Online
If it's time for your next Chevy oil change or your vehicle is making a strange sound on Rock Hill, SC roads, head down the service lane at Rick Hendrick City Chevrolet! You can contact us to get started or book a service visit online.
Whether you need an in-depth Chevy car repair or basic maintenance, you can count on us to keep your vehicle moving. With any questions or concerns, give us a call at 844-338-4254, and we'll be happy to help. Or, consult our online service information center for trusted answers to common questions, like how to clean your floor mats or how to make your tires last longer.
Contact Service
5101 E. Independence Blvd, Charlotte, NC 28212